Welcome to Dominique De Champeaux's Railroad Picture Archives!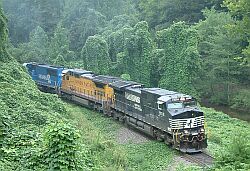 Welcome to the RRPictureArchives.NET contributor site of Dominique De Champeaux.

Hi everybody. As an airline pilot I'm lucky enough to travel worlwide. As railroading is another passion furthermore to aviation, I'm lucky enough to have some time to spend along railroads while I'm having layovers here and there. Speaking of railroading my main interrest, if not the only one, is freight operations and non-electric motive power. That's why railroads that most appeal me are those of north America: Canada, USA, Mexico. But I've sometimes occasions to witness interresting features in various countries such as Cuba, Indonesia, Jordan, etc. I'm also an avid modelrailroader (Z scale), currently modelling a free-lanced railroad in western USA and having plans for a future Z scale empire that will depict an actual remote branchline of Yucatan, Mexico.

You may browse my collection of pictures via the menu located on the left hand side of the page. I hope you enjoy the collection and thanks for stopping by!
Note: This site is best viewed in Internet Explorer 6.0 or above.
Select one of the links from the menu on the left to begin browsing the collection.
Site Stats
| | |
| --- | --- |
| Photos: | 201 |
| Locomotives: | 66 |
| Rolling Stock: | 13 |
| Locations: | 17 |
What's New?
New Photo Albums
Central Maine & Quebec Ry
-Added 9/18/2018 10:46:03 AM
Quebec & Gatineau Railway
-Added 6/18/2017 4:12:49 PM
Les Cedres, QC, Canada
-Added 4/25/2014 3:59:15 PM
Dorval, QC, Canada
-Added 7/5/2013 3:25:37 PM
Pahokee, Florida
-Added 4/20/2012 2:50:51 PM
Autun, Burgundy, France
-Added 3/6/2011 11:50:35 AM
Clewiston, Florida
-Added 8/20/2010 11:46:02 AM
Miami, Florida
-Added 8/20/2010 11:29:40 AM
Surabaya, Indonesia
-Added 11/1/2009 6:18:28 PM
Montreal, QC, Canada
-Added 8/23/2008 12:28:59 PM
Mojave
-Added 7/21/2008 4:46:25 AM
Jordan, 1993
-Added 7/11/2008 5:14:58 AM
Cajon Pass
-Added 7/10/2008 3:27:53 PM
Hawai'i
-Added 6/8/2008 5:34:44 PM
Cuba
-Added 5/18/2008 11:28:35 AM
Tehachapi Pass
-Added 5/15/2008 4:31:01 PM
Medan, Indonesia
-Added 5/15/2008 4:16:44 PM
Cima Hill
-Added 5/15/2008 3:22:51 PM
Yucatan, Mexico
-Added 5/13/2008 3:34:12 PM
more...
Updated Photo Albums
more...